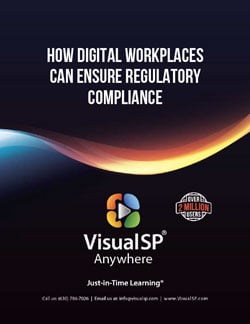 One of the biggest trends of the digital age across industries is the growing complexity of regulation. Whether it's data privacy, workplace harassment, record retention, or a host of other concerns, organizations must continually revise policies and educate their digital workers so they can make the right decisions day to day.
Are you finding your organization has invested considerable funding and effort into rolling out Microsoft SharePoint, but you continue to face a common roadblock: how to effectively and efficiently have employees follow compliance rules?
You're not alone.
SharePoint weak user on-boarding has led to many enterprises struggling to get satisfactory productivity levels and follow compliance rules with it.
VisualSP Real-time, on-demand help for SharePoint and Office 365 provides users with instant guidance that is specific to where they are at within an application.
Our solution reduces frustration, help maintain regulations and increases productivity company-wide.
This White Paper discusses the challenges and solutions to help your organization address compliance within SharePoint and Office 365.