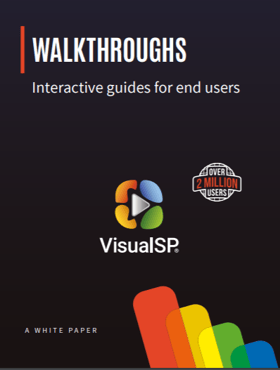 Challenge: Effectively provide guidance interactively to users at their moment-of-need.
Solution: Interactive walkthroughs have proven to be an effective tool bringing help to the users in context of their environment.
A user walkthrough provides a focused delivery that guides users through features and capabilities, which has been shown to reduce the number of "how to" calls or tickets to IT support by 25%-70%.
Accelerate employee on-boarding & Increase user adoption
Reduce the number of "how-to" questions that get asked
Create more efficient policy communications
Allow for more effective corporate governance
This White Paper discusses the challenges and solutions to help your organization address user adoption, on-boarding and training.