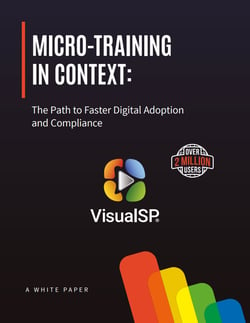 Microtraining White Paper Reveals the Challenges and Solution to Managing Change Among Technology Users
Continuous platform updates mean users must keep up with learning how to complete their tasks. Traditional training approaches have not provided successful outcomes. Contextual micro-training solutions are the answer to increased user adoption.
You will discover:
The greatest risk to poor training outcomes
The top 2 challenges to effective training
The 2 components necessary for better training outcomes
The approach you should take when training workers on new technology
Download your free copy of Microtraining In Context - The Path to Faster Digital Adoption.