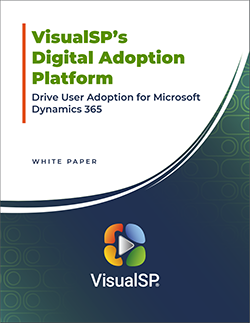 Are your users using your implementation of Dynamics 365 effectively?
Do you wish they had answers to the questions they need at their moment of need, in-context of their environment and in the flow of their work?
Well, you can provide all that and more by implementing contextual experiences using VisualSP. Download this white paper to see for yourself how VisualSP's Digital Adoption Platform can help boost user adoption and reduce support tickets by offering an additional layer of assistance directly on top of your Dynamics environment.
Download your free copy of Drive User Adoption of Microsoft Dynamics 365 using VisualSP