Companies have been creating learning portals for their users for ages… populating it with videos and articles they have created themselves or bought from vendors. The challenge has always been keeping everything updated. There's just too much for usually one person or a small team of people to keep it all updated and managed on a regular basis.
The solution to this problem is Microsoft 365 learning pathways. Or at least it's a very good starting point. It's important to understand what learning pathways is and what it is not. Understanding what it is not is going to help prevent you from running into a situation with no way forward because there are limitations of what learning pathways can do.
What is Microsoft 365 learning pathways?
Microsoft 365 learning pathways was created by Microsoft in an effort to provide a starting point as a learning hub for users. However, learning pathways is an open source solution and not a product. It's important to remember the distinction.
Microsoft 365 learning pathways is a learning portal created using a SharePoint communication site that you can send people to. Your employees would land on that portal and be able to go through various product training items such as OneDrive, SharePoint, Teams, Yammer, etc. The content is updated automatically by Microsoft directly into your tenant. Your own training can be added to this portal as well.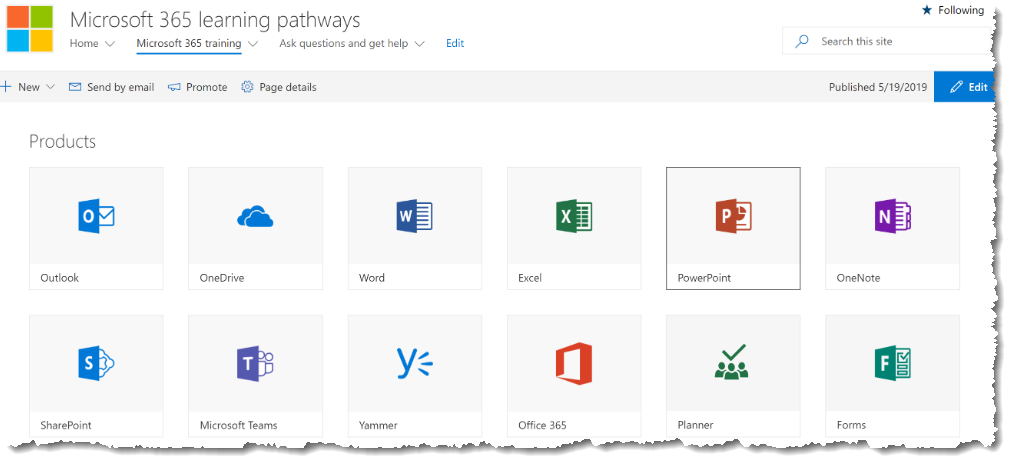 What Microsoft 365 learning pathways is not!
Learning pathways is not a product and it was never meant to be a product. As I said earlier, it's an open source solution that Microsoft has rolled out. The support for this solution is provided by community members like you and me. You can't open a formal support ticket to Microsoft to get an issue fixed that you are experiencing with learning pathways. You would have to get help from other community members.
Learning pathways is also not a Learning Management System (LMS) in a traditional sense. You're not able to assign courses or track progress of your employees . That was never the intent of the solution and according to Microsoft, it will never go that route.
Why did Microsoft not create learning pathways as a product?
That's a valid question. The answer to that is simple. Microsoft has always relied on its partner network to take what it puts out as a platform and build on top of that product platform and build it as a product. Microsoft SharePoint has been a great example of that since 2001. It has always been a platform that either customers directly or partners have used to create solutions on top of.
So then the question becomes:
Should I roll out learning pathways?
And the answer is Yes!
If you have no other ways to provide Microsoft 365 training to your users then absolutely you should roll it out. It is a great first step to get Microsoft content to your end users.
You will need to direct your users to the SharePoint communication site that holds learning pathways. Once they get there, they will see a list of all various products that they have access to get training for. When they click on a product, they will see different playlists that are available for that product. After choosing a playlist, they will see different assets that are in that playlist.
What if learning pathways is not enough? What is a step up on top of that?
Since learning pathways is not a product, Microsoft partners have been motivated by Microsoft to build products using learning pathways as the base.
VisualSP, as an official Microsoft partner, has done just that by creating a product that enhances the whole experience of learning pathways.
Learning pathways content delivered contextually
While learning pathways provides all the content and the ability to customize and create your own content, VisualSP provides a way to deliver that content in context to your users. So for example, if your user is let's say in Microsoft Planner and is wondering how to use Planner, they would have access to all the learning pathways content that is available for Planner right there as they are within that user interface. They don't have to leave the interface to find the training content for it. And yes, that's a big deal! You don't want your users to leave their interface to look for content. Once a user leaves the context of their work environment, it's very difficult to get back into the flow of work. We all know that.
Measure the impact of learning pathways training
You as an admin will want to understand the impact of learning pathways. You will want to know what the analytics is and how much the content is being used (or not used). VisualSP Provides those analytics. You will know exactly which content is being clicked on and which is not being clicked on. You will know which devices are being used and who are the people actually using the content. All sorts of drill downs are available to get usage reporting of learning pathways content.
Security trimming of content
Another thing that is pretty important is for you is to show training content that relates to the permission of the user. For example, you will not want a reader in SharePoint to see how to create sites and documents because they don't have permissions to do so. Showing them the training content of how to do that will just frustrate them. So to that point, security trimming is offered directly within VisualSP so the learning content that is shown to a user relates to what they are able to do. They won't even see the training content that's not relevant to them.
Learning pathways content within Microsoft Teams
All the content coming from Microsoft learning pathways is made available directly within Microsoft Teams as well through the VisualSP app for Microsoft Teams. It takes a couple of minutes to install and then simply the learning pathways content is available to your users directly within the Microsoft Teams interface.
Full customer support
Full customer service support is offered with VisualSP for Microsoft learning pathways. Whenever there is a need for help on installation, configuration or any other issues that you see, VisualSP is always there to help you with that need because it is a fully supported product.