When looking for a platform for change management, user adoption, or end-user support, there are only a few major players in the sector. We often get asked about BrainStorm Inc and how that product differs from what VisualSP offers. In this post, we will compare each platform and how they stack up alongside each other so you can make the best decision for your needs.
What is VisualSP?
VisualSP is an on-demand contextual platform that overlays on top of any web application. The platform provides answers to users of enterprise applications in-context of their own environment, in flow of their work and at their moment of need. This in turn results in reduction of support tickets and empowerment of end users.
VisualSP is currently deployed to more than 2 million users around the world on top of applications such as SharePoint, Teams, Dynamics 365, Salesforce, ServiceNow, Workday, Costpoint, Veeva Vault and many other custom web applications.
What is BrainStorm?
BrainStorm is a training services company that evolved into a SaaS platform focused on change management, software adoption, and security awareness for many well-known web applications. BrainStorm provides dashboard-based learning modules that will walk the user through activities and teach them skills, then provide assessments to help the organization understand more about the user.
Is VisualSP vs BrainStorm a valid comparison?
Most of our VisualSP customers have a system like BrainStorm or another LMS which they use to provide compliance and deep training to their users in various areas. These customers use a contextual microlearning platform like VisualSP to not replace a system like BrainStorm, but to augment their learning and information delivery capabilities by surfacing the appropriate information to their users in-context of their own environment, in the flow of their work and at the moment of their need.
We at VisualSP don't think it's a true apple to apple comparison that can be made for the two products. However, our customers have asked us for the differentiation between the two platforms and that's why this post was produced to show the similarities as well as differences between the two.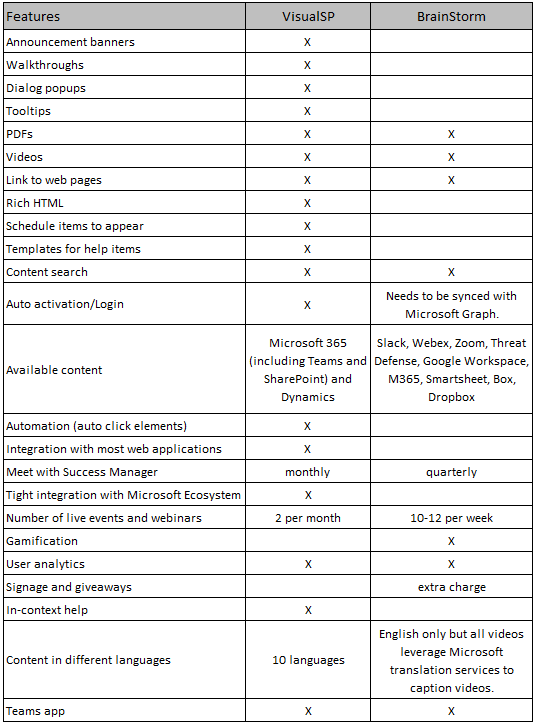 What kind of content is provided, and can it be customized?
VisualSP
Content is available for Microsoft 365 applications (including Teams, SharePoint and other apps) and Dynamics 365. All provided content is editable and customizable. The VisualSP system can be extended to support any web application with the freedom to add your own custom content in the form of videos, walkthroughs, Rich HTML, quick reference cards, images, banners, web pages, and more.
BrainStorm
Content is available for Microsoft 365 applications. BrainStorm offers learning solutions (at additional cost) for Slack, Webex, Zoom, Security awareness training, Google workspace, SmartSheet, Box, and Dropbox. Out-of-the-box content cannot be edited. However, users can create custom content but only in the form of videos, pdfs, and web pages.
How easy is it to set-up and get started?
VisualSP
VisualSP can easily be deployed to any web application within a few minutes. It's as simple as deploying 1 line of code in the application (or deploy a browser extension if preferred) and it all just works like magic on top of that application.
BrainStorm
An initial trial can be setup quickly. However, to set-up analytics for your subscription it is necessary to schedule an appointment with one of BrainStorm developers for help with configuring the rest.
How easy is it to manage users?
VisualSP
VisualSP will automatically add and activate your users to your subscription when the application is deployed and available to them so there is no need to remember or manage usernames and passwords.
BrainStorm
All users can be added and updated automatically if BrainStorm is synced with Microsoft Graph. Otherwise, the customer needs to upload a .CSV file.
Is content provided in-context?
VisualSP
Yes, VisualSP is context sensitive. Information and support is provided to users as an overlay on top of their application in form of interactive walkthroughs, announcement banners, inline help icons, action buttons & links, invisible overlays on top of page elements and also a help tab the user can use to access help at their moment of need.
BrainStorm
No. BrainStorm content is accessible in a learning center via a web interface. Users must proactively go to the BrainStorm QuickHelp page for help. Content is grouped together in skill paths.
What is included with a subscription?
VisualSP
Access to in-context information via context sensitive elements on the page
Contextual experiences (such as announcement banners, inline help, action buttons & links, etc.) embedded directly on your user interfaces

Over 1,500 pieces of learning content

User analytics

Monthly customer roundtable calls with our product managers to inform you of our latest innovation and gather your feedback

Monthly power user webinars for your end users to attend at no additional charge
Monthly Performance Reviews where our product managers meet with your team to make sure you are getting the most out of your VisualSP subscription

Communication artifacts to help get the word out about VisualSP
BrainStorm
Help content is provided via a brandable web page

Communication templates to help with company messaging that helps with adoption
Quicktips and adoption templates to learn about available resources

User analytics when synced with Microsoft Graph

Learning content can be assigned to users

Reminder messages sent through email or Teams messaging

Gamification using badges and company standings
What additional Services are Available?
VisualSP
One-on-one consulting

Microsoft 365 training webinars for your employees

User adoption as a service (UAaaS) consulting
Custom content creation to support your business objectives

Additional content packs
BrainStorm
Virtual or in-person instructor-led training. Can be all day or several days.

Quickstart cards – hard copy of material to hand out in the organization. Can be branded.
Signage and giveaways

Custom content services. They can create custom videos and PDFs that are specific to the organization
Is content available in other languages?
VisualSP
Yes. VisualSP has content available from Microsoft in these 10 languages:
English

French

Spanish

Chinese

Dutch
German

Italian

Japanese

Portuguese

Russian
Custom content can also be created by the customer or VisualSP in any of these languages.
BrainStorm
All videos leverage Microsoft translation services and are captioned in other languages. The audio is not provided in other languages.
Is there Microsoft Teams integration?
VisualSP
VisualSP has a dedicated Teams app that provides all the training content through the desktop, mobile and web clients.
BrainStorm
BrainStorm has a Teams app that can be downloaded from the app store. Notifications can be configured so that users are notified directly in Teams to remind them to complete assignments or be notified that new content is available.
How much does it cost?
VisualSP
VisualSP pricing is transparent and listed on our website. On average, our customers end up paying about $10 per user per year or less. Unlimited support and customer success services are included with our pricing.
Most of our customers opt to overlay VisualSP on top of All of their enterprise web applications. VisualSP customers pay one flat price to deploy the platform on top of as many internal enterprise web applications as they want for the same user base.
BrainStorm
Prices aren't published, but one source reports that pricing starts at $12 per person per year and can go up to $40.
Bottom Line
Both VisualSP and BrainStorm have many similarities, but inherently they are different type of platforms. VisualSP is a contextual microlearning support platform while BrainStorm is similar to a traditional LMS system. Both platforms can be used together or separately by itself.
Hopefully the comparison in this post helps you in your decision-making process. If you have any additional questions about VisualSP or would like to set up a free demo, please contact us and let's talk.