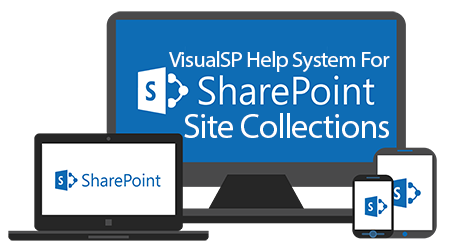 If you have ever wanted to test and share our Help System for SharePoint without needing to access intranet administration to try it, that day is here. VisualSP just announced general availability of our VisualSP for Site Collections solution, which can be easily installed and administered by any Site Collection Administrator with no farm or tenant permissions required.
End users can get the help, training, and performance support they need to adopt SharePoint faster without relying on ineffective traditional training, unmanageable Internet searches, and other wasteful options. Site Collection Administrators can drive learning on SharePoint without heavy investments in IT.
The VisualSP for Site Collections product provides users with training through a convenient Help tab that sits on the right of the screen. Users can move the tab up and down to improve screen viewing, and a quick click opens a menu of help and training topics for the page being viewed.
The VisualSP application, which is being offered with free training content, comes pre-built with dozens of artifacts including:
SharePoint video tutorials
Walkthroughs
Tip sheets
Articles
Screenshots
It is so easy to deploy to your end users. Once the app is installed on your site collection, it will "auto-magically" appear on users' browsers. No need to register individual users! No need for plugins! And the Help tab follows users around, no matter where they are in SharePoint.
This version of our SharePoint Help System supports unlimited users on the most recent Microsoft releases, including SharePoint 2010 SharePoint 2013, SharePoint 2016, and SharePoint Online/Office 365.
For Site Collection Administrators who want the complete version of VisualSP for Site Collections, we are offering a limited time price of $490 for 1 year. The annual subscription is valid for a single site collection with unlimited users. The paid version adds hundreds of training content artifacts to the Help System library. Plus, you can upload your own content, add walkthroughs, view analytics, and more!
You're able to:
Test Help System functionality, features, and content with no further commitment
Improve SharePoint adoption with a quick installation
Distribute company policies and procedures where users can easily find them
Fit it all in without needing budget approval (in many cases)
So what's stopping you? Try it out today! We are here to support you, so don't hesitate to reach out with any questions.