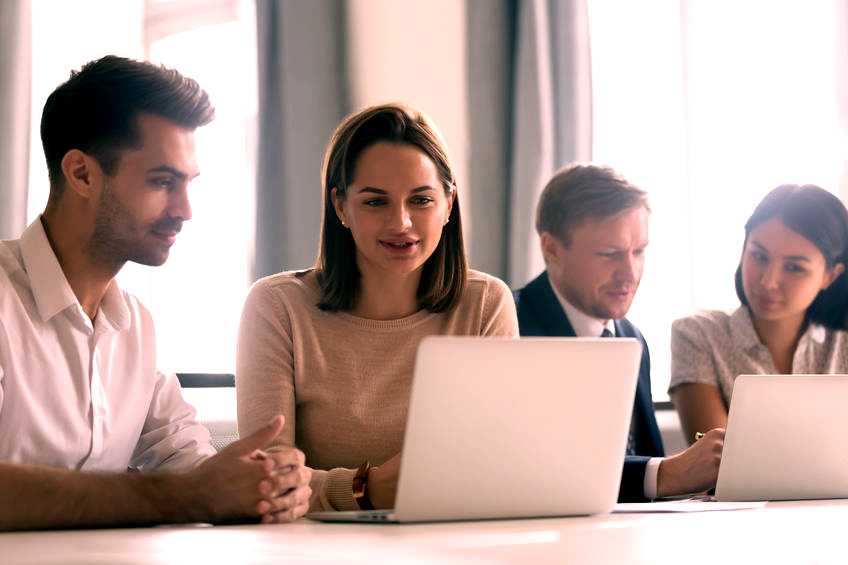 In my article, "Training Your SharePoint End Users is a Waste of Time", I reveal what I had discovered during my years as a software trainer. Also, I explain the advantages of contextual training.
Let's elaborate on that.
The most effective and efficient strategy always yields greater results. The same applies to employee training.
Thanks to digital technology, employee training of that description is widely available: it is called contextual training, sometimes referred to as "learning-by-doing" or "just-in-time-learning".
The curious question is: why are many companies still using classroom-style training programs in the era of highly intelligent training tools? There are many explanations for that reality but in this short article we explain why providing your employees with a contextual learning system is the best approach to the best ongoing training in the world of digital workplaces. Companies that have chosen this path adapt very well to the fast pace of digital innovation; they stay agile and ahead of the digital transformation curve, effortlessly.
Classroom-style training is not good enough
Roadmap or GPS?
Imagine you are a tourist in a big city and wants to visit a place but don't know how to get there. Let's suppose you have two options: to use a roadmap book or to use a GPS. Using a roadmap can get you there but only after a lot more time and efforts. Whereas, using a GPS can do the same but after a lot less time and efforts. By all measures, using a GPS is exceedingly much more effective and efficient than using a roadmap. The same is true for employee software training: a help site or contextual help system?
Live training sessions, online courses, webinars … they all do work but only to an extent. They help give employees an overview of a digital tool but they don't enable them to be proficient. The traditional ways of software training are simply not good enough for the survival of modern digital workplaces. They are not suited to help companies to achieve digital transformation, adapt to fast-paced digital innovation, and, especially, ensure regulatory compliance.
Many other factors explain their limitations.
They are not memory-friendly. Information overload and the pursuit of proficiency in the classroom always lead to overwhelm and frustration. Plus, the limitations of human brain make it impossible to remember most of the information learned. People forget most of what they learn within 24 hours. That's why, even the next day after training, they get stuck at the moment of completing a task.
They are too selective. Given that the time training sessions can take is limited, there is no way the presenters can cover all the topics relevant to users. To form a curriculum, the training team has to select the topics they think are relevant to most people and discard the rest. For example, in the case of a comprehensive platform like Office 365, this makes it impossible for departments or teams to attend enough number of class sessions and be able to learn about all the capabilities that are indispensable to their work.
They are too costly. A 2017 Training Industry Report shows that, on average, mid-sized companies spent $1.5 million on employee training, money that other companies save by simply adding a contextual help system to their software application environments.
Moreover, in any typical modern organization, employees make use of more than a dozen digital tools in a single day. Without ongoing contextual training, people are unable to use the tools to the maximum and in a way that yields intended business objectives.
Delivering training content items to users within their working environment is essential to sustainable digital adoption.
Digital workplaces need contextual training
For your workforce to be able to keep up with the complexity of digital technology, your training tools should be much more intelligent. And, a digital adoption platform like VisualSP proves to be the right tool for the training job.
VisualSP detects the application feature that you are using and delivers the exact training piece of content that you need. Without leaving your screen workspace, you are able to view the content and continue with the task at hand. All without the need to search the web, navigate to a help site, or ask someone for help.
By overlaying training items on their respective features, pages, and window, VisualSP makes on-screen guidance always available to the user, ready to be viewed with just one click.
Simply, VisualSP automates employee training, giving everyone the ability to use a software application or web service even if they don't know how to; the onscreen walkthroughs easily guide them step by step. Once they go through this micro-training process twice or thrice, they master the steps.
Contextual help systems enable contextual training
Contextual training is the most effective and the most efficient strategy to ensure ongoing learning. The approach allows employees to discover an application feature every time they complete a task, gradually improving proficiency with the digital tool.
Adding a contextual help system like VisualSP is the simplest way to enable contextual training and optimize user experience in your digital workplace. With continual learning-by-doing, overtime, your workforce will grow to use digital tools to the fullest and as intended, allowing easy attainment of your business objectives.
To see VisualSP in action and to find out how it works, check out a live demo on this page.