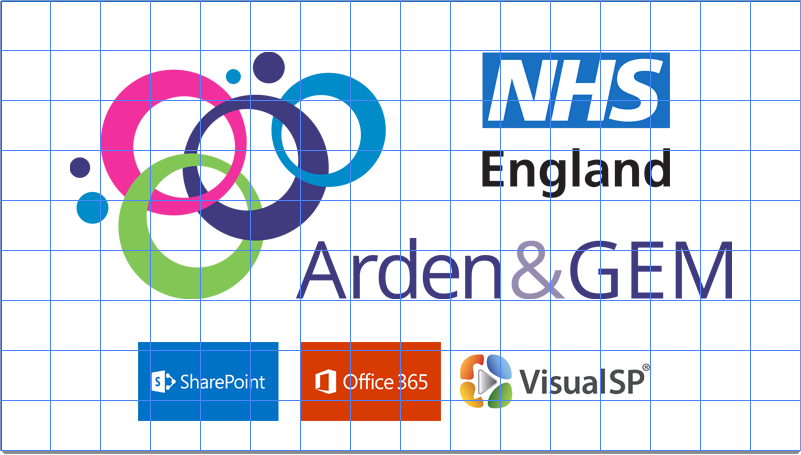 What is the most effective training tool for SharePoint and Office 365 users?
That is the question that Arden & GEM, the organization that provides business intelligence and operational support to NHS England, wanted to answer. Find out more about their success story in this case study.
The company had deployed SharePoint and Office 365 but people were not using them.
Chris Reynolds, head of innovation, was given the task of growing digital adoption. And to get started, he had to find the best way to provide effective training. He chose VisualSP, a plug-and-play add-on application that delivers in-context guidance to software applications users at the moment of need.
Now with over 2 million users across 200 companies, as a digital adoption platform, VisualSP gives employees the ability to use digital tools even if they don't know how to.
The company wanted to get the most out of Microsoft platforms and a contextual help system was essential to achieving the business goal.
Objectives and challenges
Arden & GEM, a company that counts about 1,200 users across multiple locations, aims to improve communication, collaboration, and productivity. The ultimate goal is to help the workforce get the most out of the platforms.
People were hesitant to adopt the newly deployed cloud-hosted platforms due to the previous poor user-experience with SharePoint On-Premises. The failed digital adoption was mostly due to lack of effective training. The mission for the IT team and the executive was to avoid past stagnations and eventual failures.
At first, to help people learn how to use the platforms, the IT team intended to produce training content from scratch. But they didn't have enough time and personnel to produce all the needed tutorials.
Also, given that they had experienced failure with training programs before, a better approach was needed.
The 3 user training capabilities
Here are the 3 key features that are allowing Chris Reynolds and his IT team to provide automated micro-training, in-line help, and self-serve support to their colleagues while growing SharePoint and Office 365 usage organically.
In-context popup walkthroughs
Native training content library
Custom self-serve help items
This page explains many more ways companies make use of VisualSP.
In-context popup walkthroughs
The walkthrough feature allows them to overlay guidance over every feature, page, and window of Office 365 applications.
A walkthrough can be made to popup automatically or to display at a click.
With guidance embedded within the platform interface, all a user has to do is to click on a tooltip, view the content, and be able to continue with the task at hand, without interruption, without the need to search or ask for help.
Learn more about walkthroughs in this article.
Native training content library
VisualSP comes with a complete library of training content hosted into the help system: annotated screen-shots, PDF tip-sheets, screen-capture videos, step-by-step walkthroughs, etc.
With almost all the expert-authored training content already delivered, the company had saved a lot of time. Every piece of content comes already embedded into its applicable feature and ready to help users at the moment of need.
In addition, VisualSP delivers training content hosted on the popular training site: Microsoft Learning Pathways.
Custom self-serve help items
To cater for their specific needs, most companies edit some content items and add their own to the system.
It takes just a few clicks to add a new help item to the system, making it easier to display warnings, reminders, guidelines, governance policies, and regulatory compliance walkthroughs.
The capability is also used to guide users through steps along custom workflows and processes.
Chris Reynolds and his team use this capability to overlay messages over applications windows and effectively communicate with everyone in the organization.
A simple and very effective training solution
By leveraging the power of VisualSP in-context content delivery capabilities, Arden & GEM is able to take employees on an effortless journey of learning-by-doing.
As the micro-training continues, user adoption keeps expanding and improving, making it possible for the company to attain the business objectives enabled by SharePoint and Office 365.
To see VisualSP in action and learn more about other great features, schedule a guided tour here.