---
What to Expect at Ignite: Online Discussion from Tuesday, April 28, 2015

This morning we held an online discussion with SharePoint experts and seasoned veterans of Microsoft conferences: Jennifer Mason, Asif Rehmani & Jack Fruh.

We talked about "What to Expect at Microsoft Ignite" going on May 4-8 at McCormick Place in Chicago.
some of the things we talked about included:
Navigating the Ignite website / helpful tips articles / how to view online / etc.
Helpful tips: badge pick-up, shuttles, transportation, where things are at McCormick place, etc.
Session highlights / how to find the sessions right for you, speakers to check out, community sessions in the lounge areas, etc.
Networking events (a full listing of what's going on each night) and details about the Welcome Reception (Mon. May 4) and special Ignite Celebration (Thurs May 7).
we showed a sneak-preview of the expo floor...highlighting different "focus areas" - so you know which direction to head to see the SharePoint / Yammer vendors (vs. Windows or Surface) etc.
Both Asif & Jack are Chicago residents, so they had a lot of helpful information to share about the City including: transportation tips, how to get around & what to "check-out" (restaurants, site-seeing, etc.)
In case you missed it...you can check out the presentation & slide show below!
---
ONLINE DISCUSSION - WHAT TO EXPECT AT MICROSOFT IGNITE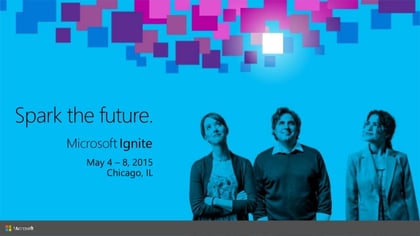 View Presentation Slides Here Watch the Webinar Recording
---
Some helpful links just recently published by ignite (and therefore not in the presentation) include:
- mobile app: https://myignite.microsoft.com/#/mobileapp/
- conference guide: now available in MyIgnite https://myignite.microsoft.com/#/home
In the conference guide you will find: maps, hotel shuttle schedules, info on wireless access, conference stores, details on events, and more!
- be sure to join in the conversation in yammer: https://www.yammer.com/microsoftignite/#/Threads/index
- follow social channels #MSIgnite or @MS_Ignite
---
DON'T FORGET...
We look forward to seeing you all at the show next week.
* Check out Asif's session (alongside Microsoft MVP, Jennifer Mason) - Weds. May 5th, 9-10:15 am: Proven Ways to Build Robust No-Code Solutions in SharePoint
* Please make sure to stop by the VisualSP booth (kiosk #13) in the SharePoint / Dynamics area of the Expo. We'd love to show you more about how we can help with sustainable SharePoint adoption in your organization (and we have some cool swag & a prize to give-away)
Hope to see you soon!