We've added another SharePoint version to our VisualSP Help System for SharePoint! Like our other SharePoint in-context training solutions, guidance and support sits inside the SharePoint 2016 Ribbon as well as throughout the user interface (see image below).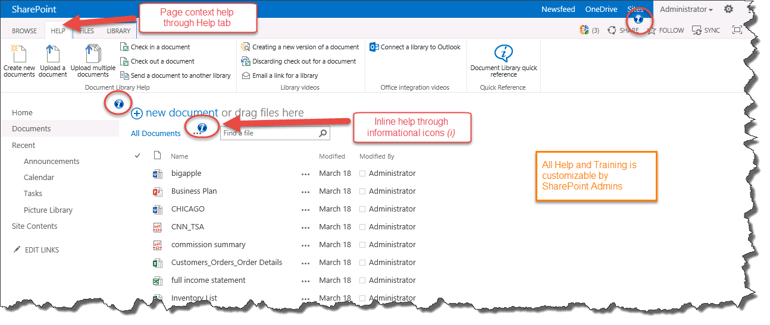 Other versions of the Help System integrate with SharePoint 2010, SharePoint 2013, and SharePoint Online (Office 365). To learn more about those solutions, visit our Help System for End Users page.
The SharePoint Help System for SharePoint 2016 provides on-demand help to users when and where they need it most. VisualSP adds a Help ribbon to the following contexts:
Libraries
o Document Libraries
o Publishing Pages Library
o Publishing Page
o Wiki Page Library
o Wiki Pages
Lists
o Announcements List
o Calendar (Events) List
o Contacts List
o Custom List
o Discussion Board
o Issues List
o Links List
o Survey List
o Tasks List
Settings
o Library Settings
o List Settings
o Site Settings
To see the Help System in action and sample some SharePoint 2016 video content, click here. We're also happy to discuss this helpful new addition with you – contact us today!