Does your IT team or your SharePoint Power Users get asked the same "how-to" questions all day long? The solution to this common problem may be making SharePoint Online or SharePoint 2013 or whichever version you have easier for the end user.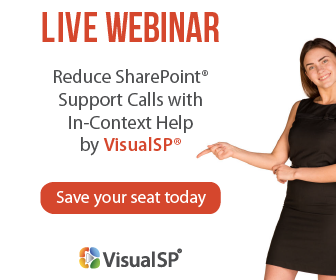 The answer can be as easy as providing micro-training in the form of in context multimedia tutorials and walkthroughs. How do you do it? With the VisualSP Help System for SharePoint and Office 365 which has helped companies increase user adoption by more than a 31% and reduce the number of support calls by more than 28%..
You can get a detailed view of the features and capabilities of this leading-edge, Just-in-Time Learning® solution with your reserved online seat at our new webinar titled Reduce SharePoint Support Calls with In-Context Help by VisualSP. Your opportunity to join us comes on Tuesday, August 1, 2017. Microsoft MVP Asif Rehmani will take you on a guided tour, showing you the out-of-the-box toolset available and the customization options you have. He'll cover:
In-context help in the SharePoint Ribbon

Pull-out menu for quick access

Inline information icons inside various web parts

Analytics tracking that shows how users are learning

Security features and language options
You'll find out how the Help System reduces dependence on IT or peers for learning support. You'll be able to cut training costs and speed up user onboarding. On top of that, you'll see how the VisualSP Help System for SharePoint and Office 365 helps with governance and policy communications. There are a lot of possibilities!
Asif will explore some of the first-rate training content available with the Help System. Our content is developed and produced by Microsoft MVPs, MCTs, Authors, and experts - so you can rely on the accuracy of your user training. Plus, you'll learn how to get this solution at no charge!
When Asif is through, you'll understand all of the options and benefits:
Dozens of free training video tutorials, articles, tip sheets

Supports SharePoint 2010, 2013, 2016 and SharePoint Online/Office 365

Easy deployment at the site collection level - painless with a quick wizard

No end-user downloads necessary

Support unlimited users per site collection
So come get a first-hand look at the answer for your less-than-stellar user adoption - and get SharePoint working for everyone.