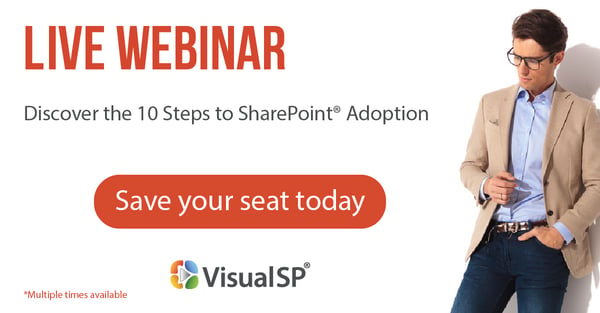 Companies continue to struggle with SharePoint end-user adoption. An AIIM report found that:
ONLY 6% of companies feel "they have achieved success with their SharePoint installations"
26% say they have "struggled to meet expectations"
28% report that while it's doing the job, "progress has stalled to some extent"
7% said their SharePoint implementations were "not successful"
So over half (54%) have either struggled to meet expectations or have stalled their implementation.
Implementing or migrating your SharePoint solution then releasing it to your employees rarely works successfully without effective user guidance and performance support. The assumption that "if you build it, they will come" unfortunately leads many enterprises into SharePoint adoption failure.
So, do you want to ensure that your employees adopt and actually use SharePoint? To build successful and sustainable SharePoint adoption in your company, you'll need to follow a proven action plan – one that includes a contextual learning tool. Join Microsoft MVP Eric Riz as he outlines ten best practices for a successful adoption plan.
In this 60 minute webinar broadcasting, SharePoint adoption expert Eric Riz explains the 10 steps that you can complete to ensure a timely and successful SharePoint adoption.
Understand how the process of SharePoint Adoption actually works
Get insights on how to identify and overcome the obstacles against adoption
Discover the 10 proven steps to a successful and sustainable SharePoint adoption
Get answers to commonly asked questions
If you want to achieve success with SharePoint in your organization, join us for this informative webinar today!