I have seen far too many folks get frustrated with SharePoint Online (Office 365) and not get the full value out of the platform. Anyone who has been working with SharePoint for a while could tell you that the opportunites for Awesome collaboration on the SharePoint platform are abundant. In fact, it's just so much you can do with the product that it's hard sometimes for the users to know where to start.
Traditional user training is not the answer in a situation like this. A performance support type of tool is what you need in this case to provide users help at the moment of need. The user doesn't necessarily care about Office 365 nor SharePoint Online. She only cares about getting her job done and moving on to other things. Providing in-context support to this user is a critical need!
Help for the end users of SharePoint Online
Our VisualSP App provides help for the end users where and when they need it. Check out this screenshot: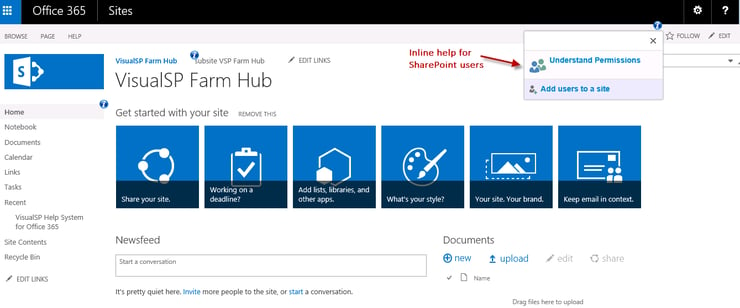 The user can click on any of the help icons (i) and get the help they need for that particular section of the page. Simple, right! The Help item can be:
Video tutorial
Screenshot
Tip sheet
Link to another resource
There are lots and lots of resources tied into the app to provide expert advice to the users in-context and on-demand.
You as a SharePoint site administrator can even configure your own Help items or change the ones we have provided. A very simple admin screen can show you how to do that:
I'll be showing the capabilities of this app this Thursday, June 11th at 2pm Eastern time. Come join me and I'll answer any questions you have. See you there!