VisualSP is looking forward to another exciting and informative SharePoint Fest event in Denver, Colorado. It's sure to be helpful to SharePoint administrators, software developers, information architects, and knowledge workers of all skill levels.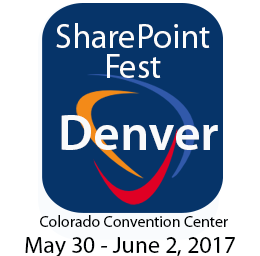 There will be approximately 70 sessions covering:
Enterprise Content Management
Power Users
Social SharePoint
Business Value
Implementation/Administration
Office 365
Workflow
Business Intelligence
SharePoint Development
We will be showcasing our Just-in-Time Learning® solutions at booth #66, including on-demand learning for SharePoint and Office 365. You'll see and experience how micro-training is delivered and learn why contextual learning helps with onboarding, migration, skill updates, compliance, and more.
Don't want to wait until SharePoint Fest? See for yourself how our Just-in-Time Learning approach is easy and effective. Get a free trial of our enterprise help system or get our free version of the VisualSP Help System for Site Collections, then come to Denver and we'll answer all your questions!
Plus...
Save 25% off a two-day pass using our exclusive promo code 'VisualSPDenver25' when you register for any of the conference passes. You'll pay $593 instead of $890, so be sure to enter our code to save.
Looking forward to seeing you in Denver!