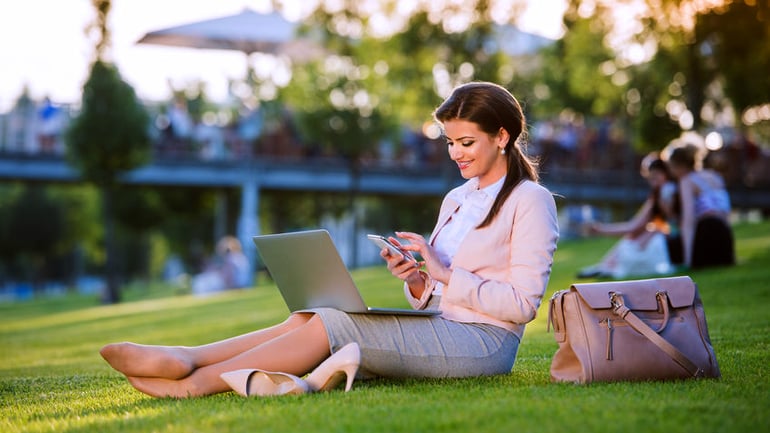 In today's digital age, it's common to work on documents when commuting, after hours, or whatever time is most convenient. This is especially true for bloggers.
Market research continues to show that blogging is good for business. Providing free educational content to prospective buyers, blogging yields some key marketing benefits: improving conversion rate, building authority, stimulating engagement on social networks, and boosting visibility in search engines. The key finding is that companies who consistently post to their blog are more likely to grow.
To that end, Office 365 has made blogging a very collaborative and productive experience. Using the cloud platform and a few smart device apps, some companies are making great strides ahead of the competition.
Working on a blog post is most efficient when any device can be used regardless of location. The key is to store your work-in-progress documents in the cloud using OneDrive. This way, you can work on content even if you are not at the office.
This method of working is even more beneficial for creative writers that are more productive when they take a spontaneous approach to writing. Many creative people would agree: great insights come when they are least expected.
Office 365 apps sync your desktop computer with all your devices, making it easier to use your devices and stay productive throughout the day. With OneDrive and mobile Office Apps, use your tablet or smartphone to create or edit a blog post anytime, anywhere.
First, it's useful to know things you can do with the tools.
Explore the cloud capabilities and look at the available options
Creating documents on a smart device and later transferring them to your desktop computer is definitely not a way that enables collaboration, productivity, and data security.
When there is a need to make some quick last-minute changes or to invite some team members to make edits or revisions, using emails back-and-forth has proven to be counterproductive.
It is also hard to produce your best content when the working space and working time are restricted to a building and to office hours.
Using Office 365 allows you to keep track of versions, comments, and edits while also allowing you to develop a streamlined approval process that removes the bottlenecks.
Install the essential digital tools
It's easy to save documents in the cloud and get to them from any device. A typical process might look like this:
Save the document to OneDrive for Business;

Open and edit the document on your iPhone, iPad, smartphone, or tablet;

Share the document with your team members to get their input and attache a note to provide all of the details;

Track all changes, knowing who did what and when;

Get approval quickly and keep the entire team in the loop;

Easily hand-off the approved content;
These steps improve collaboration and increase productivity for avid and seasoned bloggers.
However, here is the challenge.
It is not enough to just install Office 365 and other applicable apps on your devices, you and your teammates need to know how to use them, purposefully and extensively.
Attending a training session or watching online video tutorials may help, but only to an extent. Training employees doesn't guarantee continual usage of digital tools due mostly to the fact that people forget most of what they learn within days.
To overcome this challenge, some companies turn to real-time or on-demand help which allows anyone to use applications without having prior knowledge, having to attend hours of training, or having to dig through countless online tutorials. Simply put, this method of learning gives users on-screen guidance.
This guidance comes in several mediums: short video tutorials, pdf tip sheets, annotated screenshots, or step-by-step walk-thru bubbles. The ability to create and edit walk-thrus allows you to automate the onboarding of new employees so they understand your tools and your processes.
You also have the ability to know who is using the applications and by how much, native analytics capabilities provide you with the exact numbers and graphs based on scope, help item, browser, and user.
In short, bloggers and their teammates spend less time learning the tools and more time on actually using them. It's a way to ensure sustainable adoption of the digital tools and mastery of custom processes and workflows.
With applications that simplify your creative work and a tool that helps you achieve mastery, blogging output in your company will improve.
This best practice applies not only to bloggers but also to those who work with other kinds of documents, including spreadsheets, slides, and brainstorming notes.
Here is one example of how you can help your users. Instantly view and download the printout below.