Culver City needed to get critically important information to their users as they were using SharePoint and Microsoft 365 products. Emails and Microsoft Team messages were getting missed so they used VisualSP banners and splash screens to push the information to their users.
The City of Culver City, California is located close to the City of Los Angeles. Culver City is home to the headquarters of National Public Radio West and Sony Pictures Entertainment.
The challenge
Anissa Di Vincente is the Webmaster at Culver City.

She was having trouble getting people to attend important internal programs and events. Employees were missing important e-mail and Teams communication inviting them to the events. Only a couple of people would show up to the event and others would complain they never got the message.
The solution
Anissa decided to use VisualSP banners and announcements to alert employees of upcoming events.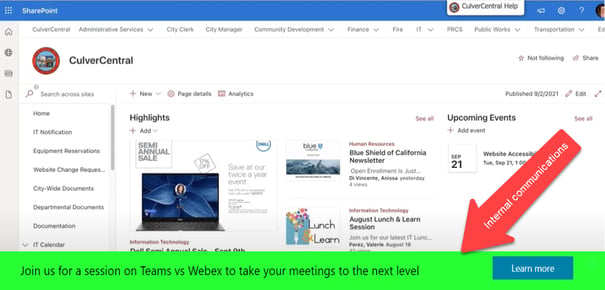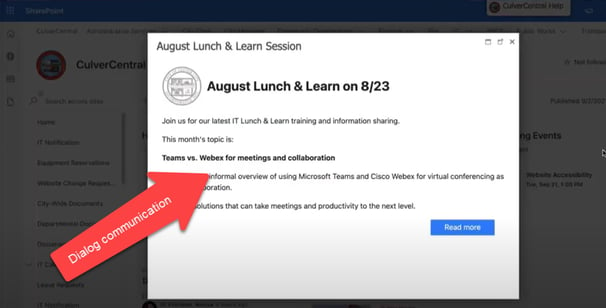 The communication would present itself to users within their SharePoint application as well as on top of Microsoft 365 apps such as Yammer, Teams, Office online, Stream, Planner and more. It made it impossible for people to miss the communication message.
The result
The participant count for internal events went from a couple of people to 40 participants and above thanks to the contextual communication being provided through VisualSP announcements and banners.
Watch the video below to listen to Anissa talk about the results in her own words.
Anissa Was Blown Away by the Results VisualSP Delivered for Culver City