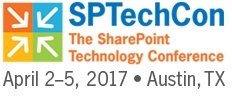 Our CEO Asif Rehmani is always encouraging the VisualSP teams to think about the what's-in-it-for-me (WIIFM) proposition when it comes to our customers. What do they need? What are their challenges? Well, we want to answer WIIFM with an opportunity to engage in some fun in exchange for something valuable – a free ticket!
SPTechCon is coming April 2-5 at the Renaissance Austin Hotel. This great event offers training and learning opportunities for IT professionals, business decision makers, information workers, developers, and software and information architects. It offers more than 80 classes including high-level introduction, intermediate, and advanced topics. Check it out.
We would love for you to join us there – on us. VisualSP is giving you an opportunity to attend three days for free! A value of $1,495 is yours – but you've got to do a little work.
Knowledge Hunt Contest
What is it?
A contest to see how much you know about VisualSP and our Just-in-Time Learning® solutions. You'll need to complete at least step one of three steps. You can improve your chances by completing all three steps!.
How do I enter?
REQUIRED Correctly complete your entry form – You'll be asked four questions along with some basic contact information (Which remains in-house. We do not sell or distribute your personal information.) [Hint: answers for questions can be found at www.visualsp.com]
OPTIONAL BONUS "Like" us on Facebook at SharePoint Videos (our former brand name)
OPTIONAL BONUS Follow us on Twitter @visualsp
What if I have already completed steps 2 & 3?
Those who already like/follow us will have their bonus entries added automatically.
How do I win?
We will draw one name from entries connected to winning form submissions only.
When will I know?
Deadline for responses: February 23, 2017 (12:00 GMT)
Winner will be announced on: February 24, 2017 via email and shared with our SharePoint and Office 365 communities on Twitter. Winner will be contacted on February 24, 2017 to distribute prizes.
What if I have questions?
Contact Jordan at jordan@visualsp.com with your questions.
Triple your chances by completing ALL THREE steps!