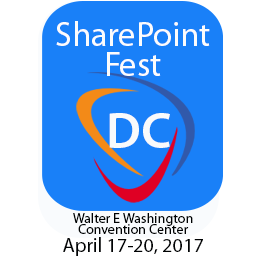 We are looking forward to SharePoint Fest 2017, April 17-20! Are you planning on heading there?
Our CEO Asif Rehmani encourages the VisualSP teams to think about the what's-in-it-for-me (WIIFM) proposition when it comes to our customers and VisualSP community. So we have an opportunity for you to engage in some fun in exchange for something valuable – a free ticket!
SharePoint Fest 2017 DC will be held at the Washington Convention Center. This year's collection of sessions is sure to help many of you. More than 70 classes and workshops await! This event was created for SharePoint administrators, software developers, information architects and knowledge workers. You'll certainly run across someone doing the same work you do. Check it out.
We would love for you to join us, on us! VisualSP is giving you an opportunity to win a two day conference pass free! A value of $790 is yours – but you've got to do a little work...
What is it?
A contest to see how much you know about VisualSP and our Just-in-Time Learning® solutions. You'll need to complete at least step one of three steps. You can improve your chances by completing all three steps!
How do I enter?
REQUIRED Correctly complete your entry form – You'll be asked four questions along with some basic contact information (Which remains in-house. We do not sell or distribute your personal information.) [Hint: answers for questions can be found at www.visualsp.com]
OPTIONAL "Like" us on Facebook at SharePoint Videos (our former brand name)
OPTIONAL Follow us on Twitter @visualsp
What if I have already completed steps 2 & 3?
Those who already like/follow us will have their bonus entries added automatically.
How do I win?
We will draw one name from entries connected to winning form submissions only.
When will I know?
Deadline for responses: March 1, 2017 (12:00 GMT)
Winner will be announced on: March 2, 2017 via email and shared with our SharePoint and Office 365 communities on Twitter.
What if I have questions?
Contact Jordan at jordan@visualsp.com with your questions.
Triple your chances by completing ALL THREE steps!