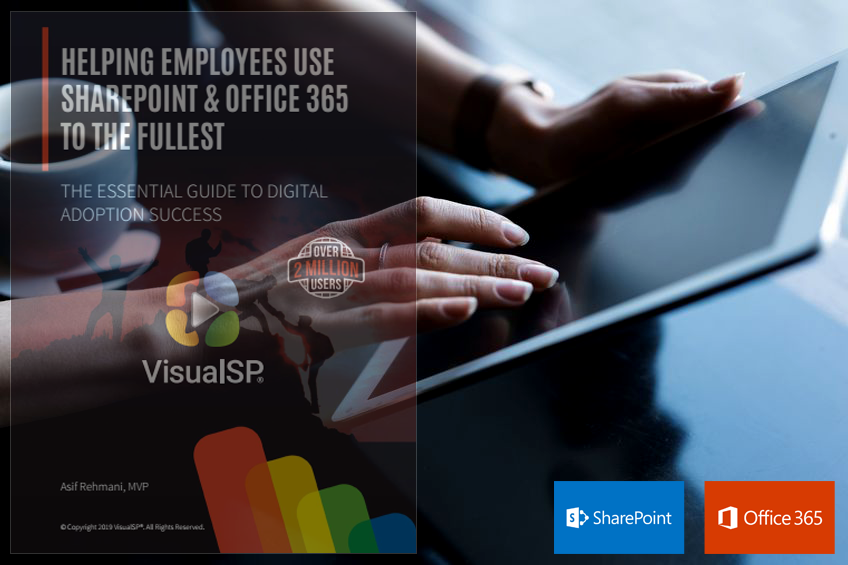 I get a lot of questions from companies that have deployed SharePoint and Office 365. The most commonly asked question is on how to get employees to use the platforms instead of other third-party digital tools.
To answer this big question and many relevant others, I wrote an e-book: "Helping Employees Use SharePoint & Office 365 to the Fullest: The Essential Guide to Digital Adoption Success". You can download the full e-book here, it's free.
In the e-book, I reveal 14 essential steps to successful digital adoption.
I layout proven action steps you can take to get people in your team, your department, and your entire company to actually use the platforms to the maximum, as intended. You learn how to keep usage gradually growing so as to keep improving productivity, collaboration, regulatory compliance, and the myriad of other great business outcomes that SharePoint and Office 365 enable.
Ultimately, this e-book is an explained checklist of action steps that I have seen produce greater results and enable companies make return on their technological investment.
The 7 key takeaways
Each of the 14 chapters expands on a campaign or a program that you need to implement. The book describes the exact action steps.
If you want to look at the big picture first, here are key ideas from the 7 most important chapters.
1. Create a long-term change management plan
Digital innovation is an ongoing dynamic, so should digital adoption.
Layout a detailed change management plan that outlines continual work that leads your company to fully utilize the deployed digital tools and keeps your workforce technologically agile enough to stay ahead of the innovation trends.
With a well thought out plan, you minimize the risk of drowning into fruitless activities and maximize the probability for success.
2. Build a team of influencers
The goal of having active formal and informal leaders is to inspire everyone into action. Executives should exercise their authority and super users should exert their influence.
From every department, pick at least one candidate from management and one from staff. Appoint them as influencers. A candidate's penchant for technology and innovation is preferable.
With an active team of evangelists in place, it becomes easier for employees to take digital adoption campaigns as a priority among their daily tasks.
3. Design an incentive program
Instant gratification motivates.
In addition to helping users understand both the personal benefits and the business benefits of using SharePoint and Office 365, which are mostly long term, find tangible ways to reward their efforts in the short term. Give rewards to early-action-takers and early-adopters.
When efforts on completion of campaigns activities are immediately recognized, employees tend to prioritize them. This boosts the number of participants and the volume of completed tasks.
The e-book expands on the best practices and commonly available options.
4. Develop friction-free governance policies
Good governance policies do not discourage users; they steer them in the right direction.
Before you create a rule, always ask the following questions: will it make using the platforms inconvenient? Can it be made simpler than this? Is it easy to follow? Can it be suggestive instead of prohibitive?
Stick to friction-free governance policies and your colleagues will find using SharePoint and Office 365 a pleasant experience.
Find all the detailed recommended action steps in the e-book.
5. Grow a modern help and training site
SharePoint and Office 365 are big platforms; they need a dedicate knowledge base that hosts all the useful information, including tutorials, best practices, governance policies, frequently-asked-questions, etc.
Start with an out-of-the-box training site like Microsoft 365 Learning Pathways. Later, gradually, build and grow an in-house custom site that you can control.
When everyone knows where to find help, using SharePoint and Office 365 gets a lot more doable.
6. Run live classes
People need to understand the mechanics of the platforms; they need to know how they solve their existing problems. Here, traditional live classes come in handy.
Put together comprehensive courses that focus on showing how the platforms solve problems; deliver multiple presentations over a period of weeks or months; and stay on standby to answer questions from the learners.
Having a good grasp of how the platforms work is the first step to learning how to use them.
7. Provide in-context one-click help
To ensure sustainable digital adoption, training users is not enough. You need to give them a tool that will make them able to use the platforms even if they don't know how.
Install VisualSP, a plug-and-play add-on application that delivers in-time, in-line, in-context help and walkthroughs at the moment of need.
When completing a task using SharePoint and Office 365, users don't need to pause or to navigate away from their workspace in search for help, they see a help item right next to the feature they are trying to use, right within the page being used. All they need to do is click to display the overlaid help item, view it, and immediately continue with the task at hand.
A help item can be an annotated screen-shot, a PDF tip-sheet, a screen-capture video, or a step-by-step walkthrough.
When SharePoint and Office 365 are made super intuitive and everyone is able to use them without the need to interrupt work and look for help, usage can only grow. And, with widening and deepening user adoption, intended business objectives can only get closer.
The e-book goes into more details on the benefits of using VisualSP as a digital adoption platform.
To see how VisualSP works, schedule a demo here.
Follow a proven blueprint
It is achievable to get employees to use SharePoint and Office 365 to the fullest and as intended. Many companies are doing it with great success, so can yours. You just need to effectively implement the digital adoption campaigns that produce the best results.
From years of experience of helping companies solve their digital adoption problems, I have come to find out what works and what works best.
In this e-book, "Helping Employees Use SharePoint & Office 365 to the Fullest: The Essential Guide to Digital Adoption Success", I talk about all you need to know so you can get started right, first time.