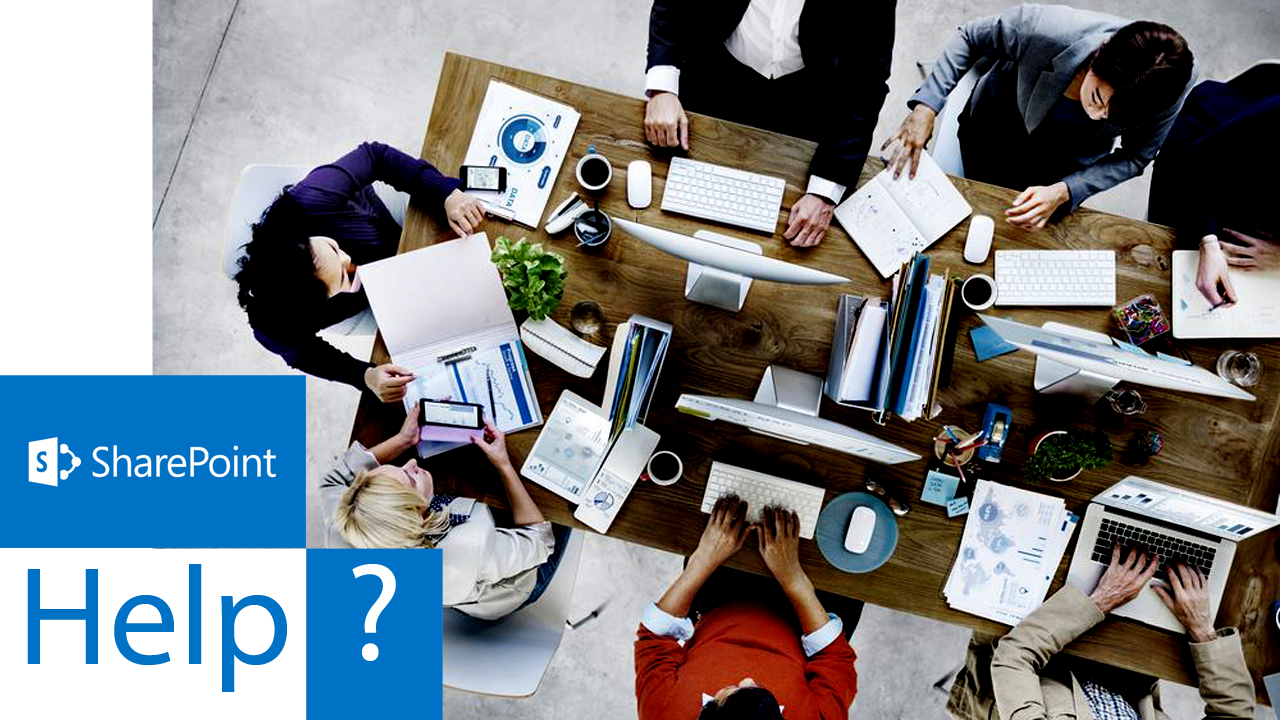 To provide end users with an effective knowledge base, you need to build and grow a custom help site; the default SharePoint help site is too generic to be sufficiently helpful. Microsoft's Learning Pathways training site is great as a starting-point. However, consider providing help to your users that is relevant to your own business and preferably delivered in context to the user's environment.
Overall, besides growing a custom help site, to help end users start and continue using SharePoint, you do need more than a help site; you need training classes, daily tips campaigns, and a contextual help system.
A help site should be a shared space where end users can go to find help before they submit a help request ticket.
When a help site is really helpful, your IT support team receives fewer tickets and saves a lot of time.
However, there are ways to make a help site a hub where help is actually found without wasting too much time. Four simple features have proven to help end users find help quickly, with fewer clicks.
Comprehensive content;
One-help-item-per-page structure;
All shortcuts on the home page;
And multi-sourced ever-growing content.
It takes some planning for each of the features.
The 4 time-saving features
1. Comprehensive content
A help site should contain every bit of information about using SharePoint.
It is common to find help sites that contain only a number of help items and tutorials; crucial sets of information such as workflows descriptions, Governance policies, regulatory compliance guidelines, troubleshooting guides, and frequently asked questions are instead distributed to end users as lengthy pdf documents.
To turn a help site into a portal that saves time for both your end users and your IT team, make sure that the content gradually includes everything there is to know about using SharePoint.
Start with the right tools. Even though the publishing site and the team site remain viable options, choose the communication site feature; the modern pages capabilities are simply much more capable and more suitable to scalability.
2. One-help-item-per-page structure
No one wants to waste time scanning through paragraphs just to find two lines of text. Quick findability should be the goal.
Create a separate page for every single help item. This approach solves the problems that lengthy consolidated pdf documents bring. People don't like to read lengthy documents but they are perfectly happy to scan through brief lines of text on a web page.
Having one help item per page helps with keeping content short and to the point.
Also, it makes it faster to update content and much more practical to share links to help items.
More importantly, short-and-to-the-point help items are easier to add to VisualSP so that they can be delivered to users within a workspace window at a time of need. In other words, optimize content for VisualSP, an add-on application that drives digital adoption by giving end users interactive instant one-click guidance, yielding the ability to use SharePoint and Office 365 without the need to know how. Here is VisualSP in action.
The following approaches also make page content easily and quickly consumable.
Optimize content for web consumption. Make every page easily scannable; make extensive use of text formatting, bulleted lists, and short sentences.
Wherever applicable, add a video version of the text content. The video may be a duplicate or an addition of the text content.
Add a distinctively different image on every page so that the home page webpart can pick them up and display them as tiles. This helps for quick scanning when in search for help items. To reduce cost, find free images on stock photo websites like pexels.com, unsplash.com, and pixabay.com.
Also, grouping help items based on topics yields easier findability. A user has to be able to navigate to a category and find the right help item first time, without having to search.
3. All shortcuts on the home page
If most end users can find the help that they need right from the home page, the help site is likely to be successful.
The goal is to make sure that, from any page of the site, a user always knows where they are.
Add a road-map on the home page and promote the help items that help the highest number of users. Key help items should be visibly prominent on the home page:
Frequently asked questions;
Most requested help items;
Most frequently visited pages,
Guidance to finding help items;
Detailed contact information of support team members;
Links to every category of help items; etc.
Make a habit to publish the answer to any question that is frequently asked. If a question is asked by 3 different people within a week, it is a commonly asked question.
On the home page, visitors should be able to quickly scan the tiles or links and pick up the right page first time.
4. Multi-sourced ever-growing content
Help sites that are rich in content are always more likely to be helpful.
To unlock your help site content growth potential, allow end users to contribute content. Make the site a community-driven knowledge portal, a hub where everyone can ask a question and leave a reply; where everyone can add and edit content.
Start by enabling the comment feature so that users can share ideas on every help item, on every page. Then, give all the applicable permissions.
To obtain contributions from users, you need more than giving permission to add and edit content, incentive programs have to be in place in order to encourage both users and super-users to share with colleagues what they learn about using SharePoint.
Finally, to ensure visitor retention for the site, appoint a team of contributors who would answer questions without delay.
Build a help site that delivers true guidance
A help site is a success when end users spend less time finding help and more time getting things done; it is helpful when an IT user support team spends less time processing help request tickets and more time developing better solutions.
Build a help site to be an ever-growing portal where every help item has its own page, is easily consumable, and can be delivered as an in-context help item. Setup a help site where content is logically structured and sourced from every team member, including external expert trainers.
With time, you will grow a help site that saves time for both end users and your IT support team.
The benefits of a helpful and time-saving help site include the creation of a group of early-adopters and the easier path toward sustainable user adoption of the platform.
To enable more time saving and to maximize the effectiveness of your help site, install VisualSP in your SharePoint environment so that you can embed help items right into the platform features. This way, end users don't have to leave a work-space window in search for help. With help just a click away, end users save even more time and find no barriers to using SharePoint. This is one major way to ensure that employees use the digital tool as intended, and to the maximum.