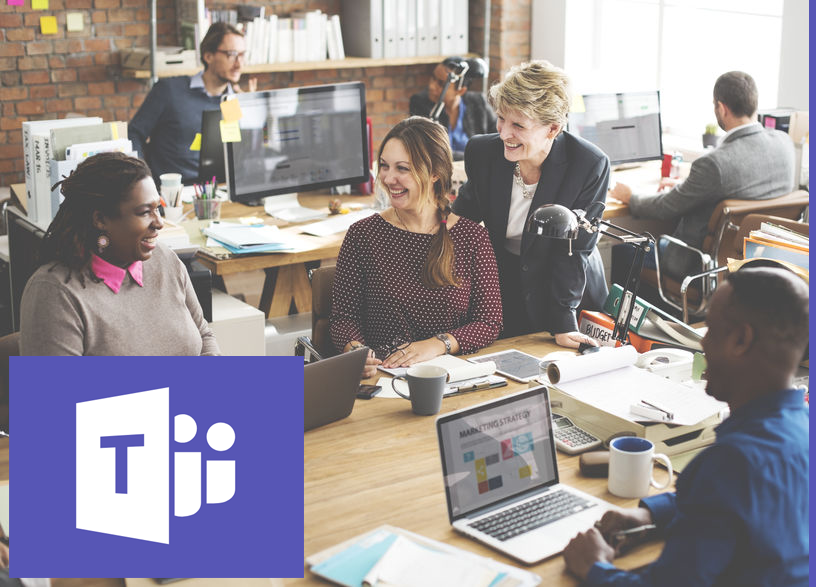 About this 14-parts article series.
At VisualSP, in our many years of experience helping companies achieve digital adoption and drive continual digital transformation, we have discovered what works and what doesn't.
In this article series, we share with you the 14 steps that companies have taken to ensure that employees use Microsoft Teams to the fullest, gradually achieving their management, collaboration, and productivity objectives.
This article series is drawn from our latest e-book: Helping Employees Use SharePoint & Office 365 to the Fullest: The Essential Guide to Digital Adoption Success. Download the full e-book here.
Why setting your goals is the right starting point
You have deployed Microsoft Teams in your company, are people using it to the extent that they should?
To get the most out of the chat-based communication and collaboration tool, make sure that you maximize user adoption. And the first step is to clarify your objectives.
What do you want your company, departments, and teams to improve or achieve using Microsoft Teams? That is the question you need to answer in order to maximize success with user adoption campaigns.
Microsoft Teams gives you a cloud-hosted shared workspace where your team members and customers can discuss, share files, and follow workflows to get projects done. There are many ways you can use the tool to do a variety of collaborative works. Let your needs and priorities determine your initial goals.
Different companies have different priority objectives for adopting Teams. For example.
Saving time by gradually moving away from emails and giving every project a centralized space for all the relevant conversations.
Getting rid of the usually risky and unreliable version-control in workflows for shared documents that require frequent updates.
Enabling live group brainstorming and co-authoring of creative works.
Gathering feedback and suggestions for completed works that need multiple perspectives.
Improving corporate communication by sharing governance policies, compliance guidelines, actionable news, documents, and requests in a way that every interaction is recorded.
Coordinating with suppliers and customers in real-time on activities around deliveries of products and services.
Expedite decision-making processes by making it easier for stakeholders to contribute helpful information.
It is only by knowing your objectives that you will be able to know whether you are making progress or not. For example, if your goal is to move projects conversations from emails to Teams, in order to measure progress, you just need to track the number of people who are still using emails for their team projects.
Know the problems that you want to solve
Surprisingly, many organizations still think that making a digital tool available for use automatically translates into employees using it. It doesn't work that way. Proven digital adoption campaigns have to be implemented. But not any how; a specific sequence has to be followed, starting with knowing your destination.
As with any digital tool, getting success with Microsoft team requires that, first, you know the problems you want to solve.
The starting point
Whether your company is already using or plan to use Microsoft Teams, if you want the tool to be a successful technological investment, complete this crucial first step: determine what you want to fix or improve in your processes and workflows.
Learn more about Microsoft Teams features and capabilities. Look for creative ways you can use the tool as much as possible, beyond your initial ideas. Look at some use cases to get more ideas.
Understand how people complete the applicable tasks using other digital tools. Talk directly to teams and individuals; have them show you the steps they take to complete the tasks that you want to be done using Microsoft Teams.
Create a continual discovery program to help you find more and better ways to get things done leveraging the power of Microsoft Teams. Get help from your IT team if needed.
Create a priority master list of processes that you want to fix or improve. Later, you will use this list to plan and implement your digital adoption campaigns. One of the most important campaign is adding a contextual help system like VisualSP as an add-on to your deployed Microsoft Teams interface. This allows you to overlay walkthroughs over features, pages, and windows and be able to automatically guide end-users step by step when they are using Microsoft Teams. As a digital adoption platform, VisualSP allows employees to use software applications even if they don't know how to; it provides them the right help exactly at the moment of need; users don't have to waste time with frustrating activities like searching the web for help or contacting the IT support team. To see how VisualSP works, watch the live demo here.
For each item on the list, find metrics to focus on so that you can be able to track progress.
Share the list with everyone, every team, and every department in the company and emphasize the necessity for collective alignment with the set objectives.
With a clear idea on how you want your company to use Microsoft Teams, you are set to implement the right digital campaigns for driving your workforce to use the platform to fullest, as intended.
Get the most out of Microsoft Teams
Knowing how you want to use Microsoft Teams is the right first step in the pursuit of deep and wide usage of the tool.
Get to know the tool well, find additional creative ways to use it, make a master list of workflows being followed by departments, teams, and individuals in your company, have the tool fully used in your existing workflows, focus on the metrics that actually show progress, and bring everyone to participate in the efforts toward making Microsoft Teams a true business asset.
After that you know what you want from the digital tool, you are ready to move to the second step: creating a comprehensive digital adoption plan. We talk about what you need to do in the next article in this series.