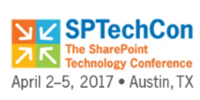 Complete the form to enter our knowledge hunt contest. You could win a three-day pass valued at US$1,495!
A winner will be selected by a drawing held February 24, 2017. All responses must be correct to be considered a valid entry. The winner will be notified via email and shared with our VisualSP SharePoint and Office 365 communities.
BONUS: You can earn multiple entries by completing the following (if we are already connected you have a headstart!):
"Like" us on Facebook at SharePoint Videos (our former name)
Following us on Twitter at @visualsp
That's it! You will get 2 bonus entries.
Good luck to you! Hope to see you in Austin!
Hint: You can find the correct answers at www.visualsp.com