The Midwest SharePoint Community get together
I have been to SharePoint fest Chicago a few times now and every time I go, the thing that I like the best is that it is a very good representation of who is who in the Midwest area SharePoint community. If they have anything to do with SharePoint, they're there. I like the local flavor that this conference provides which I don't think any of the other conferences in the SharePoint industry does as good of a job at - bringing the local SharePoint community together is priceless. This is the place to come to and interact with the peers and also the experts in the Midwest community.
Interaction with the SharePoint Vendor Community
I also really like and appreciate the layout and the vendor hall where all the vendors are visible from one vantage point. While you're having your coffee, you can look around and see all the vendors in one big square formation around the hall. Our company, VisualSP, will be there as well as we have been the last couple of times. We'll be demonstrating our Help System and App showing how you can tackle SharePoint end user training and adoption challenges.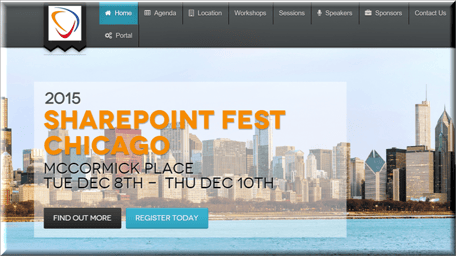 My speaking engagements at SharePoint Fest Chicago
I'll be there as a speaker talking about SharePoint Designer workflows, access web apps, search web parts, reporting tools, and more in a couple of sessions I'm presenting.
Coupon Code for SharePoint Fest Chicago
If you do decide on coming, here's a code that you can use to get $200 off registration:
Rehmani200
Hope to see you there!