Sharepoint Framework is a hot topic these days.
It went live on February 23rd
. Framework allows you to extend your existing SharePoint tools and solutions, and take advantage of exciting open-source opportunities.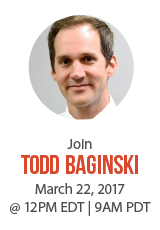 We recognize that users have a lot of questions. So we've invited SharePoint MVP
Todd Baginski (@toddbaginski) to provide a presentation on h
ow to make best use of Framework, and how to get trained on it. Join VisualSP on 3/22/17 12:00 - 1:15 EST for this informative discussion.
Our live event will provide you with a tour of the official Microsoft SharePoint Framework training materials you can use to ramp up your SharePoint team. Todd will go over training materials, including slide decks, hand-on labs, demos, and code samples. When the webinar is over, you'll understand how to quickly begin developing custom web parts with the SharePoint Framework. Throughout the webinar, he'll share key things he and his team learned as they ramped up on SPFx.
The Sharepoint development framework opens up the opportunity for non-Microsoft developers and open-source developers to start making solutions for SharePoint with the tools/programming languages they already know. So get a jumpstart on your SharePoint development, and get the resources you need at our next VisualSP live event!